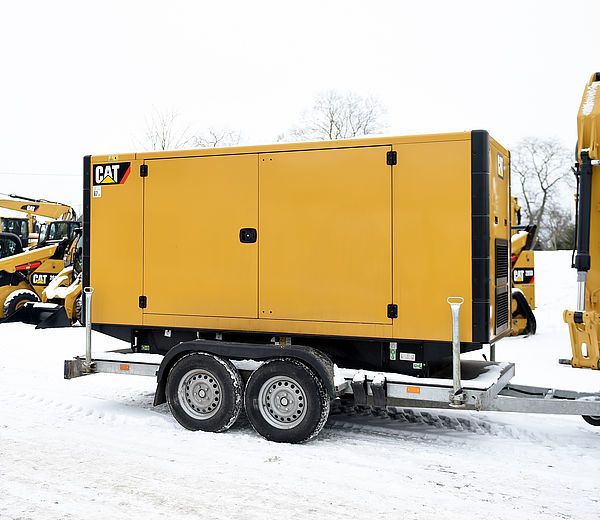 In the event of planned events and unplanned power outages, it is important to establish a temporary power plan so that power is available whenever needed. Cat® Rental Power is always available, so you can quickly set up and use a large number of units and accessories.
Main usage of rental gensets
Scheduled power shutdowns
Remote construction sites
New or expanded facilities
Seasonal peak load needs
Unscheduled downtime on equipment
Diesel and gas generator sets available from 33 - 1250 kVA.
Cat equipment is sound-attenuated, self-contained and easily transportable. Designed for quick connection and fast, easy service.
Model
Power (kVA/kW)
Fluel tank (l)
Fuel consumpsion (l/h)
Weight (kg)
Dimensions (mm)
Lenght
Width
Height
DE33E3
33/27
193
8.1
1300
2120
970
1700
DE65E3
62/52
219
17.5
1500
2300
1120
1700
DE88E3
88/70
288
21.5
1700
2770
1120
1700
DE110E3
110/88
288
25.4
1700
1770
1120
1700
DE165E3
165/132
418
37.5
2200
3520
1120
1900
DE200E3
200/160
548
45.2
2500
3520
1320
1900
DE300E3
300/240
537
63.7
4000
3998
1210
2100
DE450E3
450/360
839
99
5000
4930
1990
2370
DE550E3
150/120
827
119.4
6000
4900
1750
2200
XQP500
550/440
1061
117.4
6000
5100
1950
2290
c18
715/572
1131
144.5
6000
5320
1920
2245
3412 STA
900/720
0
191.7
9270
5900
2600
2300
C32
1250/1000
0
252.3
16000
5900
2650
3150