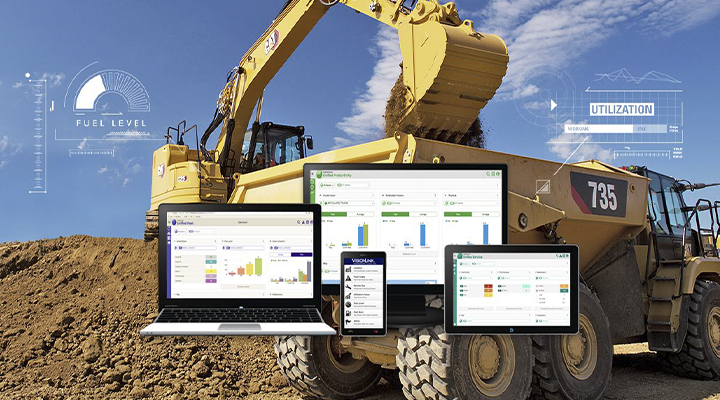 WEB BASED FLEET MANAGEMENT TOOL
Survelliance and full monitoring helps you take the guesswork out of equipment management. When you know where your machine is, what it is doing and how it is performing, you can maximize your efficiency and lower your operating costs. VisionLink helps you get that information to the right people — at the right time — to improve your bottom line results.
Just a few clicks in the web-based VisionLink interface enable you to find, track and manage all of your equipment using data provided by ProductLinkTM hardware, that's installed in your Cat® equipment. VisionLink gives you easy, intuitive access to comprehensive information about your equipment's performance and condition — without data overload. With different subscription level options, your Cat® dealer Avesco can help configure exactly what you need to optimize your fleet and drive additional profit.

MONITOR FULL FLEET 24/7
VisionLink application offers an option for satellite or cellular network coverage based on your regional requirements. It allows you to see data from all of your assets and has mixed fleet capabilities, so you can monitor regardless of make and model. Thanks to the VisionLink API service, this data can be seamlessly integrated into other business software—allowing you to gather the information once and use it in different applications.
Use groups and projects to filter & sort by data needed
Automate and share reports with team members
Utilize Automatic Programming Interface (API) solutions to manage full fleet
Full functionality across all devices: desktop, tablet and mobile phone.
Customizable dashboards provide information such as hours, miles, location with mapping, idle time, asset status, asset operation and fuel utilization
Use customized settings to help support your own business objectives.
Utilization view gives an overview of how efficiently assets and fuel are used in a specific date range.
Operations view provides historical running hours for a group of assets - used to identify excessive idling, long periods of inactivity, and unauthorized usage
IMPROVE EFFICIENCY
Get a consolidated view of productivity information by combining utilization, payload, load and cycle monitoring data into a single application
Find specific equipment quickly with the powerful mapping tool
Choose data reporting frequency (telematics subscription level)
Monitor idle time vs operating time, including engine start/stop events.
Determine how efficiently assets are being used to another to identify the top performers, worst performers, and anything in between.
Graphical analysis to historical work data helps identify
MANAGE MAINTENANCE
Receive alerts when assets require immediate service and prioritize service needs using severity indicators. Use VisionLink to plan service intervals and order parts.
Health view provides a summary view of the entire fleet and is divided into three sections - fault codes, fluid analysis, and inspections
Plan and track maintenance – start with built-in Caterpillar recommended service intervals and customize to match your needs
See which services have been performed and what is due in order to avoid overdue or missed service and maintenance
Click directly through to Cat PartStore™ to make service and maintenance even easier with 24/7 parts ordering capabilities
Create user accounts, assign permissions to applications based on user roles, set preferences, and edit/delete existing user accounts
Online help portal with 24/7 access to videos and instructions
CUSTOMIZABLE USER ALERTS & DISPLAYS
Get real-time alerts, including notification on service due, movement into or out of a site boundary and asset operation during specified times
Configure alerts to be sent via SMS text or email to those who need to know
See all of your specified alerts on one screen and prioritize the information that matters to you most
Pinpoint alert locations and identify potential site issues with GPS tags
VisionLink Daily 0 € / month
VisionLink Daily provides a daily machine data report for managing your equipment.
Features:
Reporting once per day
Basic operationsl information: hours, location, fuel level and fault codes
Create your own reports
Customized maintenance plans
Cat Essentials 24,90 € / month per machine*
Cat Essentials provides hourly reporting for managing your equipment.

Features:
Keep track on your machine operating hours, location and fuel consumption on a hourly basis
Create your own reports with in-depth operational information
Remote diagnostics
Engine on/off alerts available
Hourly updates on daily total asset cycles and payloads moved
Geofence notifications
We offer a free Cat Essentials 3 months subscription for new machines.
*One-year fixed-term contract, billing once a year. VAT 0%. Avesco Oy reserves the right to change prices.
HOW TO GET STARTED?
STEP #1: ACTIVATION
For new Cat equipment, simply contact Avesco to activate telematics hardware built in your machine and create you an user account.
STEP #2: SELECTION DATA SUBSCRIPTION
Choose between options based on how much information you is right for you and how often you want to receive it: daily with VisionLink Daily or hourly with VisionLink Essential.