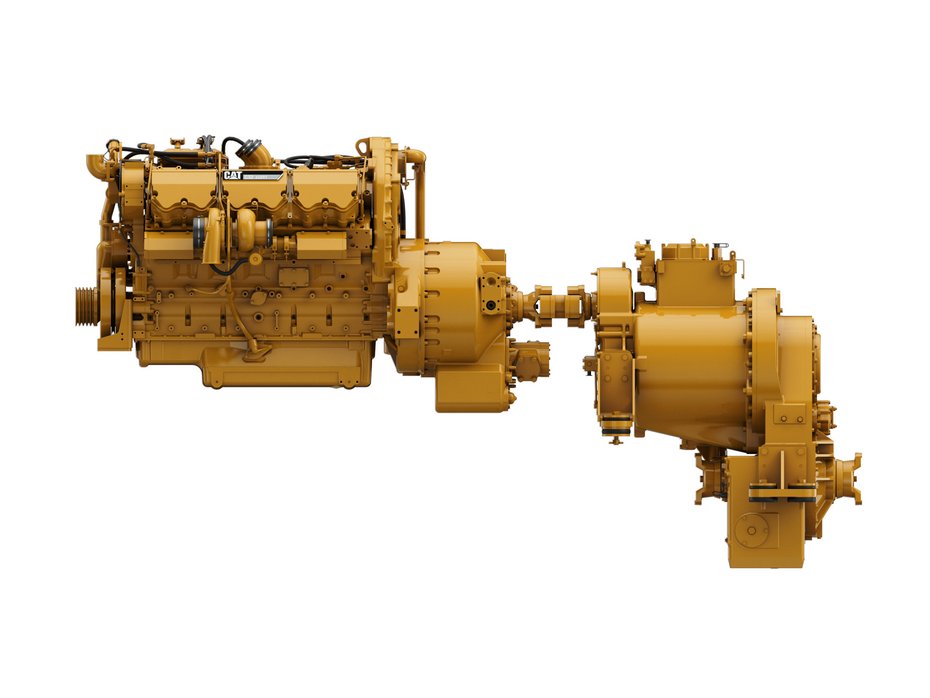 When it comes to reliable engine power, you can't afford to compromise. You need proven power. Caterpillar understands how important your rail power needs are. That's why we design rail engines for superior reliability. That's why every Cat engine is built to last.
Caterpillar® is one of the world's leading manufacturer of diesel and spark ignited engines for a wide range of applications. With the acquisition of Perkins Engines completed in 1998 and MaK in 1997, Caterpillar manufacturers offer a range of engines from 3.7 to 15,000 kW (5 to 20,100 hp) at plants in the USA, Europe, India and Japan.
Caterpillar has been a supplier of diesel engine power to the rail industry since the mid-1930's. All engines are well suited in size, power and performance for locomotive traction engines. 3500 Family engines power hundreds of mainline and switcher locomotives worldwide. C15, C18, C27 and 3400 Family engine-powered generator sets provide Head End Power (HEP) in passenger locomotives. Afull range of Cat engines can also be found in maintenance-of way equipment. Cat quite new C175 ACERT engine is building a reputation also.
3400 Series engines:
The 3400 Family engine is used to power diesel electric (DE) and diesel hydraulic (DH) shunting locomotives. They are available with mechanical or electronic fuel injection systems and ratings up to 783 kW (1050 hp) at 2100 rev/min. Currently these engines are being sold into traction, electric power generation and Maintenance-of-Way applications and offer a wide range of options. 3400 generator set engines provides 50 and 60 Hz Head End Power (HEP) in passenger locomotives and power wagons. The 3412 engine is a standard offering in passenger locomotives for North America.
3500 Series engines:
The 3500 Family engine is used to power diesel electric and diesel hydraulic shunting locomotives. The largest users are located in Zimbabwe, Austria, Germany, Canada and USA. In year 2000, the range of power ratings for the fully electronic 3500B was further expanded. They continue to offer reduced fuel consumption, reduced emissions and system diagnostics. 3500B engines are currently in operation with German Railways (DB). Spanish Railways (FEVE), Romanian Railways (SNCFR) and China (MOR). Additional units are on order for serveral customers in Europe, Asia and Carribean. High speed versions of the 3500B engine, packaged with a 2-bearing traction alternator and dual auxiliary alternator on an integral welded base, provide a solution to completely replacing old and inefective equipment. The unique 4-point, rybber isolated mounting system can be installed in many existing carbodies. Caterpillar insures that each package meets published performance by controlling the design, build and testing of the complete package.
Low and high speed 3500 Family engines offer a practical way to repower old locomotives. This the case of Lithuanian railways, which repowered the most part of its locomotive yard. It now has 34 locomotives with 3512B DITA engines.
Diesel Electric application
Diesel Electric applications use a diesel engine to drive an electric generator/alternator. The generator coverts the engine's mechanical energy to electrical energy. The electrical energy is then sent to the traction motors which propel the locomotive or rail vehicle.
There are 2 basic electric drive systems:
Direct current
Alternating current.
AC traction systems owe their success to the development of microprocessor controls and power electronics. However, superior performance comes with increased cost.
2. Diesel Hydraulic application
Diesel Hydraulic applications use a diesel engine to drive through a hydrodynamic transmission. The basic components of these transmissions are drainable torque converters and fluid couplings, which used in combination provide traction over a wide vehicle speed range. There are no wear parts except bearings, and they provide smooth acceleration and shifting. Reverse direction operation is achieved by using a sliding change gear or a second set of torque converters and fluid couplings. These transmissions are used in all rail applications up to about 2240 bkW (3000 bhp). Larger sizes are very expensive.
3. Diesel Mechanical application
Diesel Mechanical applications use a diesel engine to drive through a torque converter and a multi-speed transmission similar to those used in the automotive and off-highway markets. Mechanical drive locomotives have higher tractive effort than electric drive locomotives of the same weight because the drive axles are all linked together. Additionally the electrical control system is relatively simple. Currently the most popular transmission system for Maintenance of Way machinery.
Locomotive Powertrain includes:
echanical Drive Locomotive Features
Examples of locomotives using Caterpillar powertrain components
Power Module Features
Diesel Engine Power
Hydraulic Torque Converter
Power Shift Transmission
Parts and Service Support
4. Diesel multiple unit
Diesel Multiple Units (DMUs) is a name commonly used to describe railcars that are essentially passenger carrying vehicles with a self-contained driveline. The driveline usually consists of a horizontal or low height profile engine, a mechanical or electrical transmission, cooling package and other major equipment located under the main passenger compartment floor. Usually two or more of these railcars are semi-permanently connected together, hence the 'multiple unit'. DMUs are used when conventional locomotive towed passenger trains are not economical or available.
Drive Line Arrangements of Horizontal engine application:
Taking the Diesel Multiple Unit (DMU) with an underfloor drive line, then within the underframe of the railcar, a number of components have to be located:
Engine
Transmission (direct or remote coupled)
Drive shafts
Power bogie
Induction and exhaust systems
Controls
Batteries
Fuel tank
Cooling System
Fire protection system
Compressed air system for brakes, etc.
5. Head-End power
What is HEP and how does it work?
Head End Power is an electrical power engine-generator system located either in a locomotive or separate power car in passenger train applications.
6. Maintenance of Way equipment
Railways depend on specialized equipment to maintain trackage and right of ways for safe and efficient operation of trains. Maintenance of way equipment builders worldwide offer Caterpillar diesel engines in their machines because they are built to the same rigorous standards as Caterpillar construction machinery used worldwide for railway construction and maintenance.
Caterpillar 3000, 3100 and 3300 series engines with ratings from 20 hp (15 bkW) to 335 hp (250 bkW) are well suited for smaller machines such as tie/sleeper inserters, spiking machines, utility tampers, and brush cutters. The Caterpillar engines rated from 300 hp (224 bkW) to 840 hp (626 bkW) are used in larger machines such as continuous tampers, ballast regulators, ballast cleaners and rail welders. The Caterpillar 3500 Series engines with ratings from 1000 hp (746 bkW) to 2000 hp (1492 bkW) are used in applications such as rail grinders.