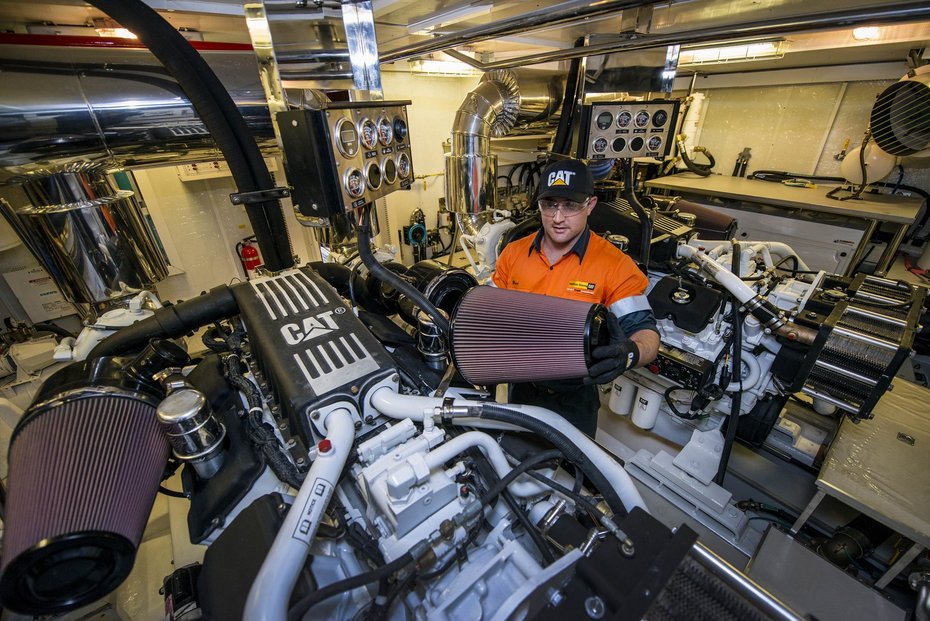 Cat® marine engines - the perfect combination of efficiency and excitement, dependability and exhilaration. Cat marine engines set the standard for quality, performance and reliability, offering an industry-leading power range with decades of experience and a continuously evolving product line. The result is a single source for total power solutions on board, providing electronic marine engines, generator sets, and vessel controls.
Caterpillar offers a full product line of propulsion engines from 250 to 7268 mhp, auxiliary engines from 250 to 7268 mhp, and generator sets from 11 to 5200 ekW. Even the most compact if Cat engines packs a punch that belies its trim design and dimensions. Throughout the power range, Cat engines have the power not just to accelerate, but also to exhilarate. Cat propulsion engines offer outstanding performance and fuel economy. These sophisticated electronically controlled engines have engine monitoring and protection features and are compatible with Caterpillar display and vessel control systems.
The C32, C18, C12, C9, and C7 engines with ACERT® Technology incorporate the latest core engine system innovations to provide the maximum benefits in power density, performance, emissions, and fuel efficiency.
When your need for reliable power goes off-shore, put Caterpillar on board!
Cat marine power solutions generate more than efficient power. They come with dependability that only Cat can deliver. Our experience, our product line, and our commitment in marine power run deep. Cat marine generator sets will meet your auxiliary power needs and the latest emission control standards - all with a peace of mind you need out there.
There are packages, configurations and options to meet any marine application need. With the unmatched Cat reliability and extended service intervals, you might just forget about your Cat generator set. That's true peace of mind!
Repowering of your Marine Engine
The Decision to Repower
Whether you need to repower a towboat, fishing vessel, tug boat, or an ocean-going supply boat, Caterpillar Marine Power Systems has the right repower solution for you. Avesco Oy will develop a custom solution for you and will support your marine repower needs, no matter how large or small. Together with Cat Finance Corporation, we are able to combine engine financing, vessel financing, and custom product support solutions into a competitive financing package with flexible repayment terms.
There are many reasons why an owner chooses to repower vessel. There are also many reasons why choosing us for your repower works is a wise decision.
Product Line
Our world-class product line of high-speed and medium-speed engines enables us to offer Repower Solutions for:
Output needs from 11 kW to 16 000 kW.
Main propulsion and onboard power supply, including emergency gensets.
Single or multi-engine installations and complete propulsion systems.
ACERTTM Technology - the best choice for your Repowering
ACERTTM Technology is the product of a $500 million investment structured on the broadest product, application, and manufacturing base in the industry. No other marine engine supplier can draw on the breadth of our product line, combined with our own internal fuel systems, manufacturing capabilities, and internal electronic controls designs to create such a comprehensive, long-term emissions solutions.
This strong background serves as the foundation for the building blocks of ACERT Technology:
multiple injection fuel delivery;
state-of-the-art electronics;
refined air management;
precision combustion design.
The investment in ACERT Technology has paid off - Caterpillar has made landmark breakthroughs in the science of fuel combustion. This technology allows the combustion process to be shaped and managed with an extremely high degree of precision. The end result is a product line of marine engines capable of meeting the stringent emissions requirements currently in force, and providing a solid building block to tackle future emissions challenges.
The same features and benefits of ACERT Technology that enable Caterpillar to protect the environment also lend themselves to enhancing engine performance. Efficient combustion reduces engine wear and maximizes the amount of fuel energy appliedto the propeller or generator. ACERT Technology drives the combustion system to pull the maximum amount of energy from each injection.