Uninterruptible Power Supply (UPS) - The solution for critical applications.
Critical application areas such as data centers or hospitals cannot afford either a power failure or disruptions such as voltage distortions. In response, Avesco offers highly efficient dynamic UPS systems that can be integrated into buildings or delivered as containerized solutions. Depending on the power range and redundancy requirements, the dynamic UPS systems are available in different configurations.
As a result of the constant growth in IT, data centers quickly reach the capacity limits of space or performance. The modular and scalable UPS systems from Avesco enable the UPS capacity to be expanded quickly and cost-effectively if required. We offer environmentally friendly, battery-free UPS technologies with induction coupling as energy storage.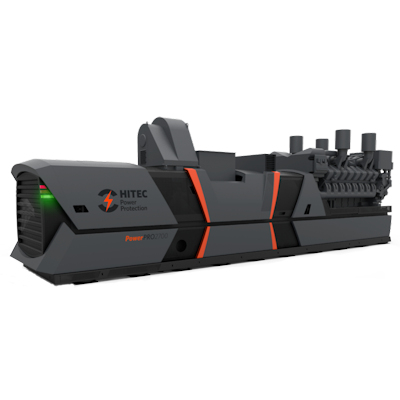 HITEC DYNAMIC UPS SYSTEMS - PIONEER OF A TECHNOLOGY
HITEC Power Protection is a global company with headquarters, manufacturing and test facilities in Almelo, The Netherlands. More than 60 years ago, HITEC developed the first UPS system using kinetic energy as storage. Since then, HITEC has asserted itself as the market leader with more than 3,000 MVA of dynamic UPS systems installed worldwide. The new PowerPRO series impresses with maximum performance and economy.
Avesco has been a HITEC sales partner since 2007 and has delivered more than 55,000 kVA of dynamic UPS systems with HITEC technology in various application areas.
Available Models
| | | |
| --- | --- | --- |
| Type | UPS Power Range | PDF |
| PowerPro 3600 | 2'564 kVA - 3'000 kVA | EN |
| PowerPro 2700 | 1'624 kVA - 2'232 kVA | EN |
| PowerPro 1800 | 1'254 kVA - 1'706 kVA | |
| PowerPro 1000 | 470 kVA - 1'000 kVA | |