Used Cat machines from Avesco Oy are a cost-effective and trustworthy alternative to new machines. After purchasing a used Cat machine you can benefit from the full support provided by the Avesco after-sales service. When buying used machines, a fair partnership is the key foundation of our operations, we want to offer you the best possible machine in the price segment you are looking for.
Every used Cat machine is carefully checked by our specialists and we will provide you with this evaluation and inform you about the details of the machine. If you want to sell your used machine please contact us, we will make you a special buyback offer.
We are able to search a model you are looking for in the condition you require at any time via a network in which all Caterpillar dealerships participate. If you are interested to buy used Cat machine contact your local Avesco Cat salesman.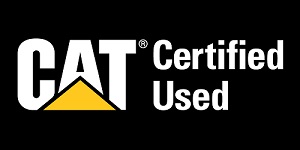 High quality certification for used Cat machines offered by Avesco Oy. These machines go through an intensive inspection process in our modern workshop. Our mechanics ensure that the machines are put through their paces and then prepared for a "second life". Cat® Certified Used equipment are offered by Cat Finance with a guarantee of up to 24 months and interesting financing terms.