Wheeled excavators: how to choose the right one
Wheeled excavators are in high demand and can easily tackle a wide range of different types and complexities of tasks. These excavators are most popular in the construction industry, where their manoeuvrability allows them to be used successfully in a wide range of construction applications. However, these excavators cannot work on unstable (viscous, loose) surfaces, so account must be taken of the terrain before starting work with a wheeled excavator.
Wheeled excavators have become indispensable not only in construction but also in road building, quarrying and many other industries. Thanks to the wide range of bucket types available, this machine is used for excavating soil, sand, minerals and other materials. They are often used for excavation trenches and ditches and are ideal for loading materials into freight vehicles (rail wagons, tippers, etc.). They are also suitable for excavating and reinforcing foundation pits, canals and ditches, embankments, landscaping and other applications.
Thanks to the interchangeable bucket, it can dismantle buildings, level the ground or load stones with the reinforced bucket, or sift materials such as crushed stone and gravel with the dedicated bucket. Other accessories can be fitted and attached to any Cat® wheeled excavator boom:
hydraulic hammers;
grabs;
forks;
demolition equipment;
rotary bridges etc.
They are also useful in winter; they can be used to clear snow around construction sites, on access roads and in car parks. In particular, it is worth noting the high mobility of the wheeled excavator and its ability to reach relatively high speeds. Wheeled excavators are ideal for urban environments, including work near buildings. A wheeled excavator can be driven to the work site or to a secure parking area after a shift.
SELECTION CRITERIA
—
The question of selection criteria arises when you are planning to buy any machinery, so before you choose a wheeled excavator, you need to decide on the scope and nature of the work to be carried out, as well as the area in which it is to be carried out. For example, the mini excavator on tracks is ideal for small tasks in the private sector, for minor construction work and for laying electricity and communication cables. Larger models on tracks are recommended for tasks in large suburban sites, quarries and mining.
If you need an excavator for construction work in the city, a wheeled excavator is your best choice. Moreover, its movement on public roads is not prohibited and requires no special transport for short distances. For example, loading a heavy crawler excavator and its equipment and transporting the equipment to its destination and then unloading it not only requires special transport but also incurs higher financial costs.
In addition to excavating or loading into trucks, the right choice of wheeled excavator will allow you to use it for levelling the site before the foundation work starts, as a crane for unloading or loading building materials, and for other tasks. The benefits are obvious, as investing in one machine allows you to perform a wide variety of tasks.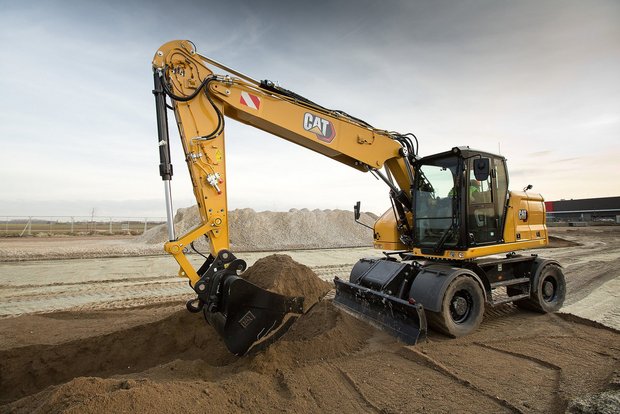 Among the main criteria for choosing an excavator are its weight and power.
Larger excavators should be bought for long-term, permanent work. A machine of this size and power will pay off the purchase and maintenance costs with its efficient performance. If the workload is not sufficient, the excavator will often stay idle. For more cost-effective use of the machine, it would be better to buy a lower-power excavator.
However, choosing a model that is too small may not meet the needs of the job at hand. On the other hand, choosing a model that is too large can be too complicated and, more importantly, too expensive.
There is no definitive answer here – the excavator should meet your needs.
To make the right choice, it is advisable to carefully analyse a number of issues relating to the nature and amount of work to be done. This will also determine the excavator's capacity requirements, which is why both the useful lifting capacity and bucket size are chosen. For example, if the excavator is loading dump trucks, the bucket should be chosen to have the capacity and size to load the truck body in 4 to 6 loading cycles. However, in this case, we do not know the power required for the excavator. To solve the issue of excavator performance at the expense of the bucket size will not only overload the hydraulic system, but excessive boom loads can cause rapid wear and breakage. In addition, without the right balance between the bucket, the boom and capacity, the stability of the excavator is compromised, where a fully extended boom and a full bucket can make the machine unstable and cause it to tip. Therefore, not only must the size of the bucket and the power of the excavator be selected, but also the permissible combination of bucket and boom. Of course, a larger bucket can pick more soil at a time, but this combination also has corresponding power requirements.
Modern excavators are represented by models with different features and capabilities. The main differences are not just in the purpose of the machine, its appearance and the comfort of the cab, but also in the main parameters – the specifications.
When choosing an excavator, it is recommended to take into account technical characteristics such as:

engine power | bucket capacity | maximum travel speed (km/h) | operating weight | lifting capacity
Moreover, we should not forget the brand awareness in our country. Modern excavators operate in harsh conditions, which place special demands on the quality and frequency of maintenance. It is often the case that cheaper appliances from lesser-known manufacturers are completely depreciated due to long delivery times for spare parts and lengthy repairs or servicing. In order to avoid unnecessary costs, it is recommended that you buy your wheeled excavator only from well-known brands that have extensive service networks and ensure prompt servicing.
Avesco offers professional, high-quality Cat® construction equipment and provides maintenance service centres in all Baltic countries. The company has mobile service centres that provide warranty and post-warranty servicing, as well as maintenance and repairs throughout Baltics. If it is too difficult for you to decide which wheeled excavator might be the best choice, simply consult the experts who supply this equipment, and they will give you some really helpful advice. After you consider all the nuances, such as the working technology of the wheeled excavators on offer, the reliability of service and the favourable financing conditions, you will be able to make the right decision.

For a virtual demonstration of the new generation of wheeled excavators, CLICK HERE.
OVERVIEW OF POPULAR CAT® WHEELED EXCAVATORS
—
The Caterpillar brand is known around the world, and reliability and efficiency are the hallmarks of Cat® equipment.
A wide range of Cat® wheeled excavators is currently available. They are easy to operate and operator-friendly, with a wide range of functionalities, high working speeds and productivity, and low operating costs.
"By purchasing a Cat® wheeled excavator, the client not only becomes the owner of the machine, but also gains a reliable partner who will always come to the rescue," says Andrius Zakšauskas, "Avesco" GCI manager for Baltic countries
Model
Engine
(EU Stage V)
Engine
Power, kW
Operating weight, kg*
Excavation depth, mm*
M 314
Cat® C3.6
100
14600-18000
5580
M 316
Cat® C4.4
110
14600-18000
5920
M 318
Cat® C4.4
129
17100-19950
6290
M 320
Cat® C4.4
129
18800-21200
6330
* – working weight and excavation depth vary depending on configuration. For example, you can choose between three different excavator booms with different reaches, and several types of excavator booms (including the SmartBoom).
The table above shows that:
Cat® wheeled excavators range in weight from 14.6 to 21.2 tonnes and in engine power from 100 to 129 kW.
The bucket volume varies accordingly between 0.7 and 1.2 cubic metres.
The average excavation depth is 5.5 to 6.3 metres.
For Cat® wheeled excavators Specifications CLICK HERE
All of these excavators are built for exceptional strength, productivity, efficiency, comfort, safety and ease of maintenance.
These excavators are built using reinforced components and individual sub-assemblies that meet the highest industry standards. The new generation of wheeled excavators retains all the best features of the previous F and D Series models:
Ride control (excavator boom shock absorption);
Cat's SmartBoom™ (smart excavator boom);
Electro-hydraulic controls;
Load-adaptive hydraulic system.
Caterpillar has considered client feedback and implemented a number of improvements in the development of the next-generation Cat® wheeled excavator series. For example, conveniences such as constant speed support were an option on previous models but are now standard on the new series.
The most important distinguishing features of the excavator models in this series, that not only boost productivity but also benefit the operator, are:
the much lower fuel consumption;
the all-new design;
the new comfortable cab;
improved stability;
increased visibility and safety and many other innovations.
Engine
All models are powered by Cat® engines, which offer low noise levels and meet EU environmental standards.
These include high power, reliability, low maintenance, high fuel efficiency, cost effectiveness and low toxic exhaust emissions. For example, C4.4 engines feature an electronic, advanced fuel injection and air delivery system that ensures minimal fuel consumption both in operation and in driving. These Cat® engines are designed not only to ensure long engine life but also to reduce noise and vibration, so this control system ensures that engine power is used efficiently during operation.
The new generation of models is equipped with powerful and durable Cat® engines that meet European Stage V emissions standards. These are a new generation of engines that dramatically reduce the amounts of pollutant emitted. This engine's exhaust gas treatment technology is fully automatic. Without the operator's intervention, the exhaust gas treatment process does not reduce engine power or interfere with operation. The only thing the operator needs to remember is to periodically check the level of the diesel exhaust fluid (DEF) in the separate tank and top it up if necessary. DEF is a non-toxic, colourless, odourless and non-flammable liquid that is injected into the exhaust system to treat the exhaust gases. This liquid breaks down the nitrous oxide gas into harmless water vapour and nitrogen gas, which is then exhausted through the tailpipe. In addition, these technologies offer fuel savings of up to 10% compared to the previous model series.
Hydraulic system
An advanced hydraulic system ensures an optimal balance between power and efficiency. Cat® wheeled excavators have a separate slewing pump. This pump is connected to a mechanical drive with a closed loop that is not connected to the main hydraulic loop, so that other hydraulic functions can be performed during turns. The hydraulic system's power control distributes power evenly depending on the load, resulting in shorter cycle times, increased lifting capacity and increased bucket and boom force.
The main hydraulic pump is controlled by the electronic pump control system, which is designed to improve the machine's response time and accuracy. It directs the hydraulic flow exactly where it is needed, when it is needed. This helps to make smooth movements particularly efficient. In addition, the level of hydraulic sensitivity can be adjusted depending on the work to be carried out (adjustable hydraulic aggressiveness). In addition, all hydraulic cylinders of Cat® wheeled excavators are equipped with built-in rear shock absorbers to increase cylinder durability and reduce noise.
Comfort and ease of operation
These criteria ar­­e very important to the operator, which is why the comfort of Cat® wheeled excavators starts as soon as you step into the very spacious cab. Compared to older models, it's a completely new exterior design with wider doors and a raised safety console at the cab door for easier entry and exit. In addition, improved cab cushioning and insulation have significantly reduced not only vibration but also noise and dust ingress. The sound level in the enclosed cabin is currently below 71 dB(A).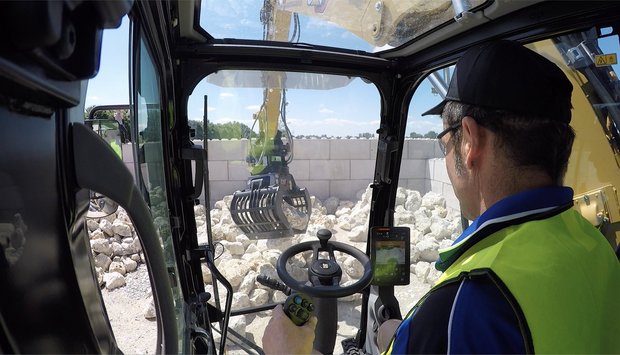 The cabin has:
Automatic air conditioning, adjustable steering wheel and seat, and adjustable electro-hydraulic controls
The high-resolution liquid crystal display (LCD) provides a colour image and key information in the language of your choice
It has ergonomically positioned controls and panels – the most commonly used switches are optimally grouped and reduced in number and positioned next to the electro-hydraulic control levers.
The comfortable, fully adjustable, heated and cushioned seat is customisable to suit the needs of each operator. Two wide-angle rear and side cameras, combined with glazed cab windows, provide almost 360° visibility.
In addition, the images captured by the side cameras are reflected on the screen. An illuminated rear-view camera integrated into the body of the counterweight provides better protection. LED work lights and LED lights inside the cab, as well as LED daytime running lights, are also installed.
The Constant Speed Support system allows you to set the speed and activate it via the quick-access button on the monitor. The Ride Control system allows moving comfortably over uneven surfaces – the excavator boom is cushioned and the machine moves more smoothly. The Auto-Travel-Lock system is activated by a switch on the dashboard and prevents any accidental activation of a tool element (e.g. excavator boom, bucket function, platform rotation). The joysticks are deactivated and only the pedals work.
These excavators are equipped with the DigandGo Auto-Axle-Lock system, which recognises the machine's operating and driving modes and locks or unlocks the axle articulation cylinders. The monitor asks for a PIN for security – no additional anti-theft equipment is needed, as the engine cannot be started without a PIN.
Hydraulic quick couplers are used to speed up the excavator's operation, i.e. to quickly change from one type of work attachment to another. For example, there is a need to replace a smaller bucket with a larger one, or to replace a bucket with a hydraulic hammer or other equipment. In this case, the operator can successfully change the tool without any effort, even without leaving the cab.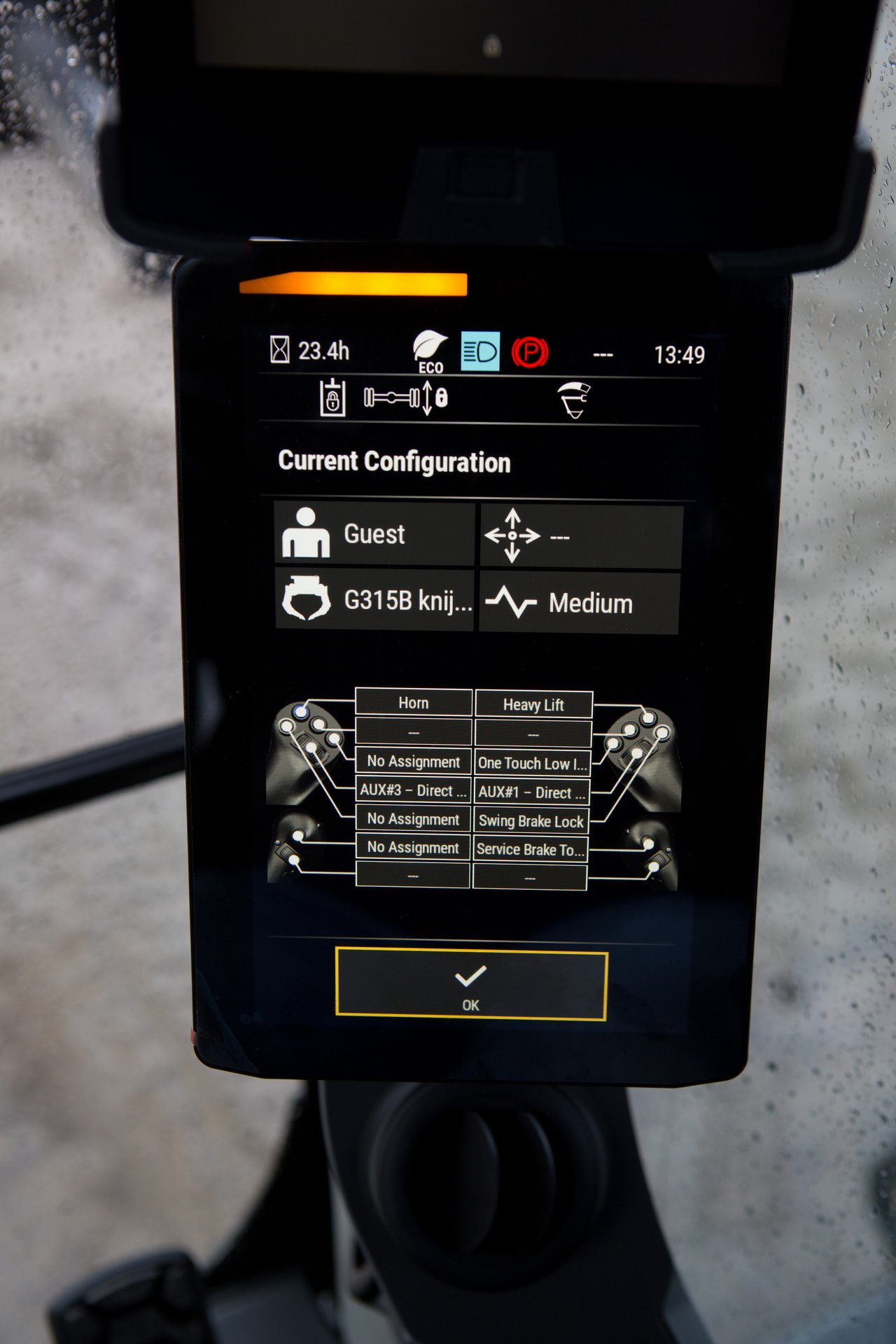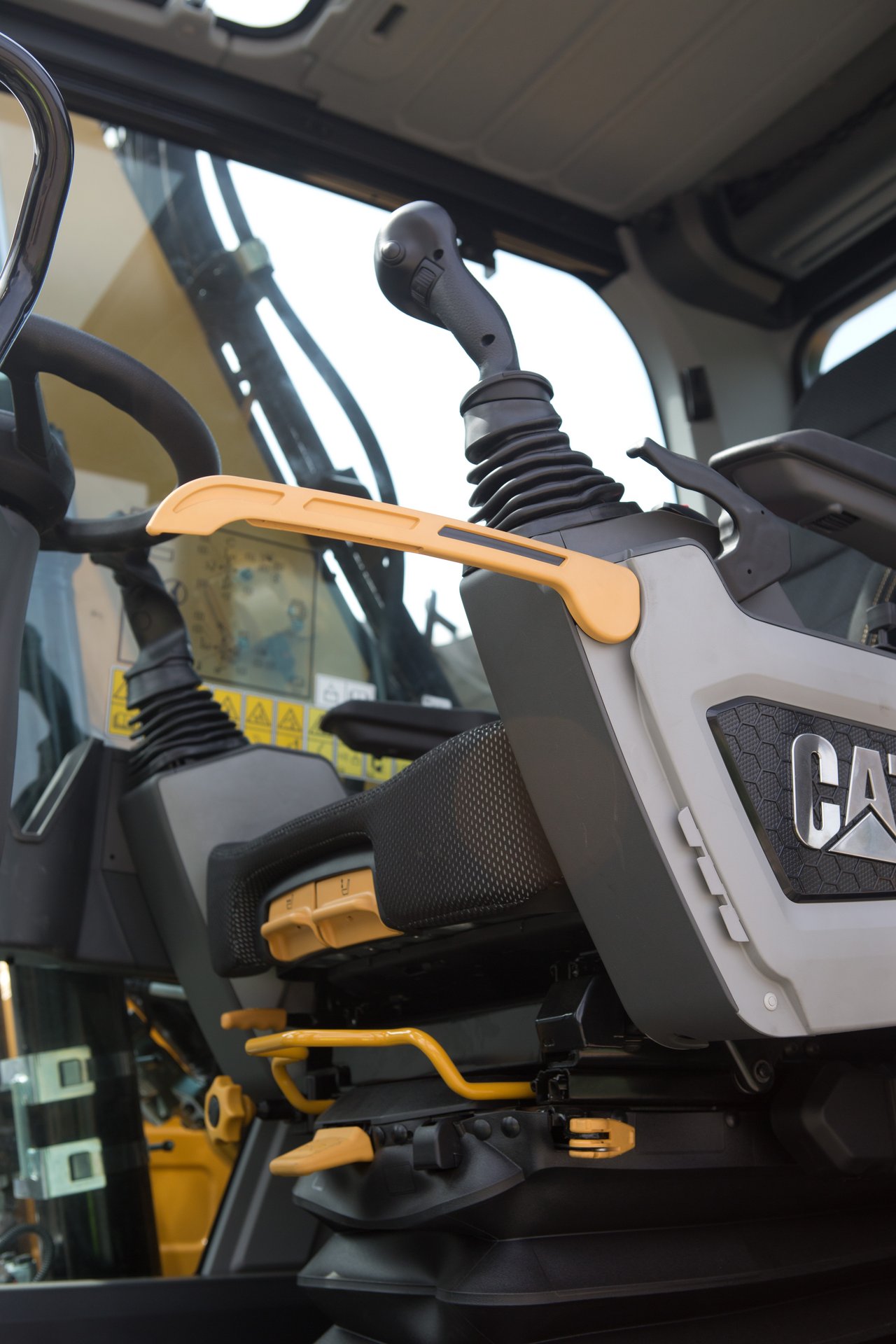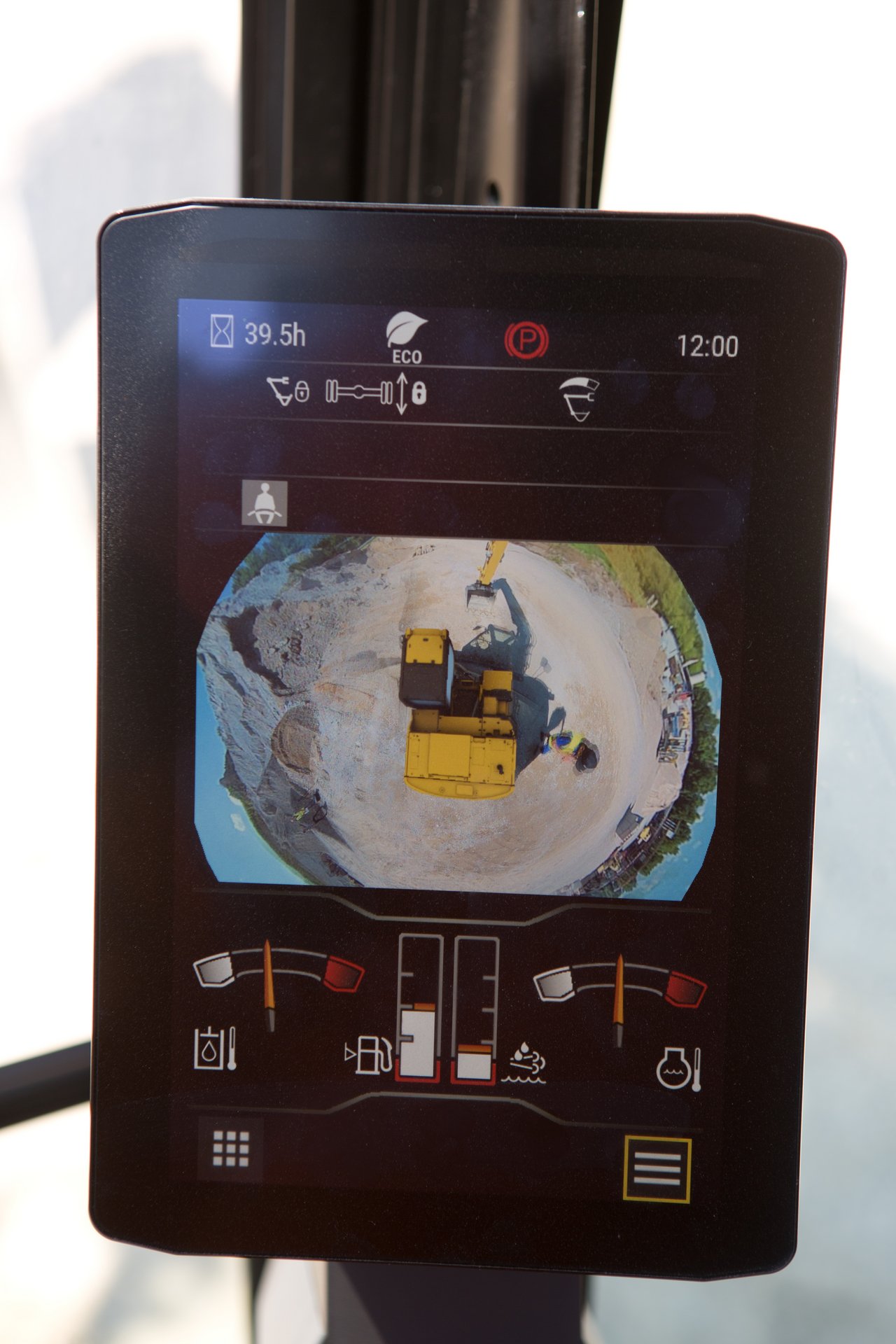 DAILY MAINTENENCE OF CAT® WHEELED EXCAVATORS
—
All these excavators have daily maintenance points easily accessible and unaided from the ground. Electrical and hydraulic components are optimally grouped and easy to see, while the fuel and DEF filler tanks are easily accessible from a dedicated safe service platform. The engine is positioned for easy access to the cooling compartment, all radiators are also in one place and accessible from the ground, and the condensing heat exchanger can be easily removed and cleaned without the need for any special tools. Auto-lube – the automatic central lubrication system for the moving parts of the excavator's upper platform – makes the operator's job even easier as the only thing that needs to be monitored is the oil level. The number of chassis lubrication points has been reduced and is optimally grouped for easy maintenance.
Maintenance is essential to keep a wheeled excavator in good condition during its lifetime
Operators spend most of their time with this equipment. They are the first to spot problems and can help prevent serious breakdowns.
The operator must inspect the machine daily to prevent loosening of fasteners, leakage of fuel, coolant and oil, and dirt and other deposits that could lead to breakdowns, accidents or even fires.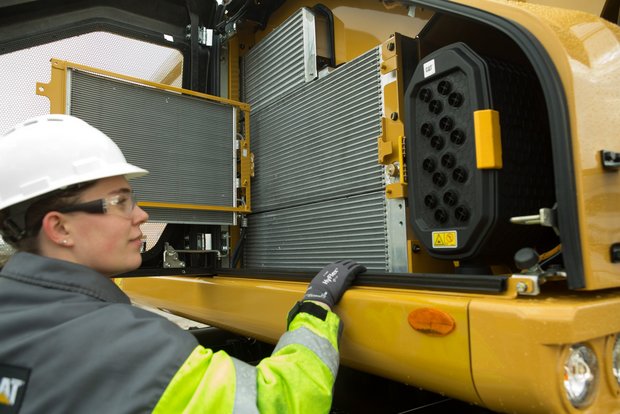 For example, oil leakage from a cylinder is not just an environmental problem. In continued operation, the cylinder draws in dust and dirt, quickly contaminating the entire hydraulic system. Then, instead of simple repairs, the hydraulic system needs to be flushed and various damage to the system components repaired.
As well as checking for leaks, daily servicing includes checking the levels of fuel, oil coolant and hydraulic fluids, and topping up fluids if necessary. The electrical system is also checked for fraying and disconnected wires. Routine maintenance includes manual lubrication of the individual friction pairs of the boom, buckets. The frequency of lubrication is specified in the manufacturer's technical documentation. Friction point lubrication reduces contact stresses, part friction and wear, prevents corrosion and hardening, and removes hard particles from the surface.
Whether you are involved in construction, utilities or landscaping, Cat® machinery offers solutions to help you successfully complete contracts and projects, increase the competitiveness of your services and perform any task, even the most challenging and unusual, on time. The convenient interfaces with additional tools and the quick coupling mechanism make wheeled excavators very versatile machines for a wide range of jobs – they can operate more than just as excavators. With optional accessories, it can work with drills, buckets of different sizes, demolition hammers and other work tools. For high productivity and minimum fuel consumption, Cat® machines perfectly combine innovative engineering and cutting-edge technology. An investment in Cat® technology is a significant contribution to any company's reputation.